The Sally Bytheway Chorale was founded in March 2005. Directed by Sally Bytheway Brinton, the 95-voice community chorale includes former members of the Mormon Tabernacle Choir, the Eleanor Kennard Chorale, and Lex DeAzevado's Millennium Choir.
The Chorale began when former members of the Eleanor Kennard Chorale approached Sally and asked if she would be interested in starting and directing a community chorale. At the time, Sally was a member of Lex DeAzevedo's Millennium Choir and A Touch of Class, a local trio (co-founded by Sally) which performs in elementary schools arranged by ARTS, Inc. (Artistic Resource for Teachers and Students) to teach students about classical and American composers. The Chorale originally consisted of 25 members and grew to its current 95 members in just three years.
The Chorale performs a variety of styles including jazz, contemporary, patriotic, gospel and sacred music. Auditions are required for entrance into the Chorale. The Chorale performs two series of concerts each year: one in the spring and the other at Christmas time.
The Chorale is assisted by accompanists Pat Marlor of Sandy, Utah, and Natalie Rudel of Draper, Utah, as well as an 18-piece orchestra at its semi-annual concerts. The Chorale President is Kent Demars of Sandy, Utah.
The Sally Bytheway Chorale was asked to be part of the 2007 Winter Festival Concert at the Assembly Hall on Temple Square, and the Temple Square Performance Season in the Spring of 2007. They have performed at various places around the Valley. They have given several standing-room-only concerts at Waterford School, St. James Episcopal Church, and Good Shepherd Lutheran Church. Beginning in 2007, the Chorale has performed a benefit concert each Christmas for The Road Home in cooperation with generous youth from Saint James Episcopal Church; the Chorale has been able not only to bring the Christmas Spirit to these audiences but also to give a gift of hope to those in the community who have special needs.
The Chorale is very grateful for the support of Mike Brinton, Sally's husband, the chairman of the board of trustees. Mike and Sally help the Chorale perform an important community service in this collective effort. Members of the Chorale feel like a big family. They enjoy working together, as they prepare the music and feel satisfaction of accomplishment as each concert comes together.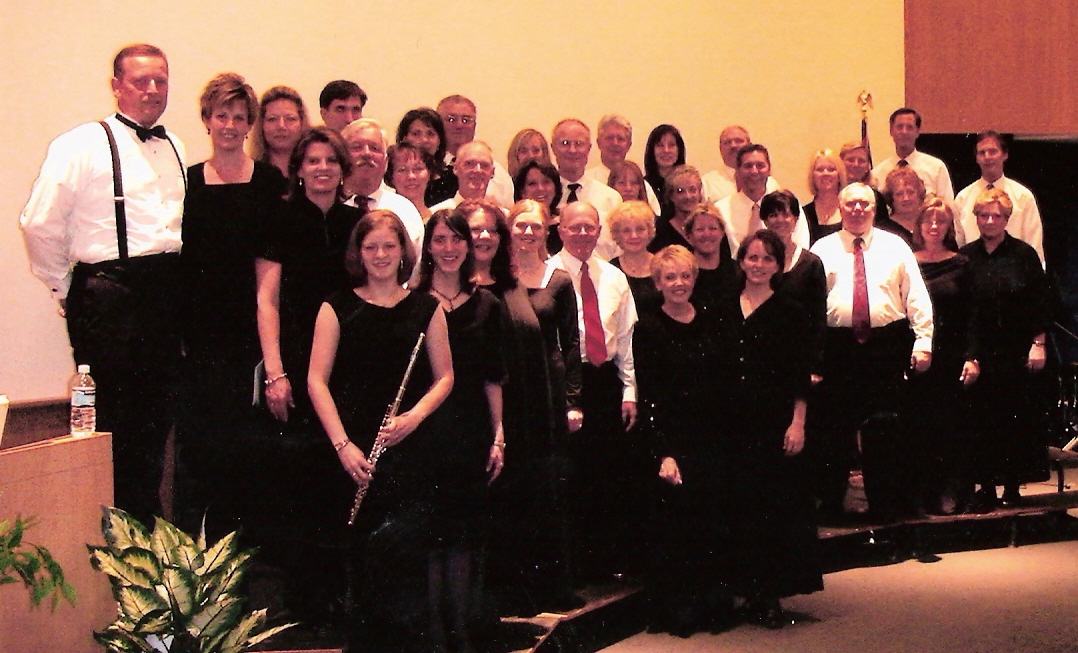 The Chorale's first concert, in May 2005.