Sally Bytheway Brinton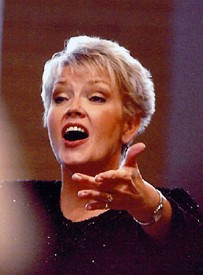 Sally Bytheway Brinton, director of the Sally Bytheway Chorale, was born and raised in Salt Lake City, Utah. She graduated from East High School, Salt Lake City, Utah. At East High School she was a member of Acapella and Madrigals. She studied vocal training for ten years from Gayle Brockbank Lockwood and Kim Riggs Hess. She has taught vocal technique privately and directed choirs for the past 20 years. She co-founded A Touch of Class, a local trio which performs in elementary schools arranged by ARTS, Inc. (Artistic Resource for Teachers and Students) to teach students about classical and American composers. She is a former member of Lex De Azevedo's Millennium Choir, and a current member of Odyssey Chorale, directed by Lyle Archibald, Head of the Music Department at Salt Lake Community College. She has performed on stages throughout Utah, Idaho and California, as well as Jerusalem, Israel. She performed with Odyssey Chorale in the spring of 2007 in Rome, Florence, Venice and Milan, Italy.
She resides in Draper, Utah with her husband, Michael Brinton, and has six children and six grandchildren.